Workouts
Welcome to my awesome 6 Week Fit Mommy Challenge! Select a workout to see your exercises for that day.
Daily Tip'
Mommy Tip: I find it helpful to stick to just 1 or 2 meal plans for the week BUT again if you like variation go ahead and change it up.
Mommy Tip: Drink plenty of water. If you stay hydrated you will have more energy and be able to tackle those cravings. Shoot for at least 64oz of water a day. Bring a water jug with you to help you track.
Mommy Tip: Start slow. You don't have to be perfect your first try. Recognize when you are doing well and stay positive with yourself. Everyone has to start somewhere. Take it a day at a time.
Mommy Tip: Make sure you are eating nutrient dense foods that have a lot of volume. For example, you can eat twice as much cauliflower rice as you can regular rice and stay full. This will help you stay full longer.
Mommy Tip: Simple carbs are best to eat right after your workout, so try to eat your fruits after your workout.
Mommy Tip: Pamper those sore muscles by rolling them out, stretching, and taking an epsom salt bath. This will help you recover quicker and keep you going hard in your workouts.
Mommy Tip: Maybe week one didn't go as well as you hoped for. But, NOW is your chance to do better this week! You can do it! Learn from your mistakes and do better this week!
Mommy Tip: Don't stress if you find yourself up a couple pounds after a cheat meal. The extra carbs and sodium will make you hold a little extra water and it will flush out a day or two of getting back on your normal meal plan and water intake.
Mommy Tip: Make sure to get fiber-rich foods that help you feel full longer
Mommy Tip: Try not to watch the scale and focus more on how you look and how you feel in your clothes.
Mommy Tip: Make sure you're getting between 7-9 hours of sleep each night. Try setting an alarm to remind you when you need to go to bed.
Mommy Tip: Do you have a favorite pair of jeans or a favorite outfit you feel amazing in? Use those as a motivator and try it on throughout the program to keep your eye on the prize.
Mommy Tip: Be sure not to "forget to eat." In this program your body needs the fuel to have great workouts and to feel strong and healthy! (Especially for you still nursing mamas!)
Mommy Tip: You won't always be motivated. Motivation comes and goes but if you have set a goal and you are determined to hit that goal, then you will succeed and no amount of excuses will get in your way.
Mommy Tip: As you move into Phase 2 of the workouts, push yourself just a little bit harder than you did the first two weeks! This will help your body to change more and more.
Mommy Tip: Protein is essential for a strong, lean mom body ;) That's why I have you drinking an IdealRaw protein shake with every post-workout meal. Keep both flavors on-hand for a quick, sweet, healthy treat!
Mommy Tip: Find a workout buddy to do the challenge with you or just hold you accountable. Tell them your goals and check in with them as often as possible to help you stay motivated.
Mommy Tip: Remember to STRETCH after every workout. It will help break up the lactic acid and help your muscles recover.
Mommy Tip: If you love a certain meal plan but are sick of eating it the same way try switching up how you make it! See how many ways you can make each meal a little different and share your food pics in the group!
Mommy Tip: You're halfway! I'm so proud you have made it this far. Don't forget to check in with your fellow challengers and share with each other your challenges and successes. It can help you find some motivation to keep going and finish the program strong!
Mommy Tip: Do you ever feel hungry? Don't forget you can eat as many green, fibrous veggies as you like--for flavor and fullness!
Mommy Tip: Focus on how strong you feel and your cardio endurance improving. Remember, how you look is not the only important factor. You want to FEEL healthy and fit.
Mommy Tip: Remember to drink your BCAA's during and after your workout to help replenish your electrolytes and help your body build lean muscle.
Mommy Tip: Save your favorite recipes and meals from the plan to keep in your meal rotation after the challenge is done! Healthy doesn't have to be boring, right?!
Mommy Tip: When you don't feel motivated, practice discipline. Motivation comes and goes but discipline is 100% controlled by YOU.
Mommy Tip: Have healthy grab and go options for snacks available so you don't ever "forget to eat" and then your glucose levels will stay even and you won't feel the need to binge.
Mommy Tip: Remember your "why." Why are you doing this challenge? Use your why to push you through to the end!
Mommy Tip: By now you've probably found a few favorite meals from the meal plan—stay prepared and keep those foods on hand and ready to put together! Preparation is key when it comes to being on point with your nutrition!
Mommy Tip: If you are finding it difficult to find the time for your workouts, do it at the same time everyday so you know you cannot miss it. Maybe before the kids wake up?
Mommy Tip: Congratulations—you completed the Mommy Fit Challenge! Don't forget to record your final results. I can't wait to see your after picture!
Mommy Tip: The end is in sight! Push yourself HARD this week and reap the benefits of giving the challenge everything you've got.
Mommy Tip: The difference between try and triumph is a little "umph!" Do one more push-up! That "umph" is what makes the difference!
Mommy Tip: Don't keep "trigger foods" in the house. As you progress through the program it will be harder to stay on track if you continue to see your favorite cheat foods in the house. Remove the temptation.
Mommy Tip: Come up with a post-challenge game plan. How are you going continue your Mommy Fit lifestyle after the Challenge is over?
Mommy Tip: Think about how much stronger you feel now compared to the beginning of the challenge—use that to push yourself even further for the last week!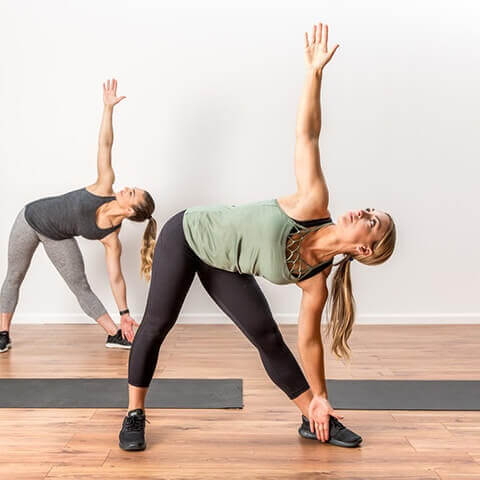 Measurements


How to Take Your Measurements

Chest: Circumference of your chest at the nipple line
Waist: Circumference of your torso at the smallest point—usually an inch or two below your ribs
Belly Button: Circumference of your torso at the point that is level with your belly button
Glutes: Circumference of your glutes/hips at the fullest point
Right Thigh: Circumference of your thigh at the fullest point
Right Calf: Circumference of your calf at the fullest point
Right Arm: Circumference of your arm halfway between elbow and shoulder


Enter Your Results
Record your measurements so that you can track your progress and see the changes that are happening in your body. This is also where you'll report before and after results.
Select a Check-In Survey to Enter Your Results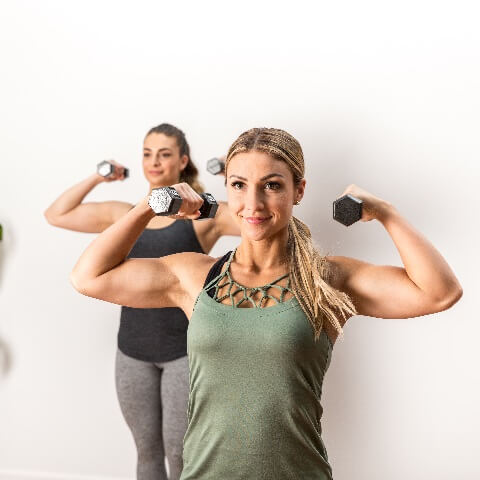 Equipment
Personal Scale and Measuring Tape
A stability ball, sometimes known as an exercise ball, is a basic, inexpensive piece of at-home gym equipment. It's extremely versatile and we'll be using it for a variety of different exercises, not just for crunches or sit-ups. It's a great replacement for a weight bench, plus it helps you engage more muscle groups than just the one you're focusing on. Stability balls come in different sizes. Be sure to get one the fits your height so that you can get the most out of it! Choose a ball size that allows you to sit with erect posture with your hips and knees at 90 degrees based on your height and leg length (Most people use a 55cm or 65cm ball)
Dumbbells
Dumbbells are great because they're easy to store, relatively affordable, and you can use them for so many things. I recommend having 2 sets, one heavier and one lighter. You definitely DON'T need two sets of dumbbells to complete this program, but as you progress you'll want to challenge yourself with more weight. If you're a beginner, I recommend getting sets of 5 lbs and 8 lbs, and if you're more advanced I recommend sets of 10 lbs and 12 lbs.
Yoga Mat
Although it isn't required for this challenge, a yoga mat is highly recommended. It will save your bones and joints from the harshness of a hard floor to make your workout more comfortable. And if you're exercising on the carpet, a yoga mat will provide more grip so that your hands and feet don't slide around!
Food Scale
The best way to accurately measure your food and get the right portions is with a food scale. Not only are they useful and easy to use, but they're also pretty inexpensive! When you're picking one out, make sure that it has different measurements (ounces, grams, pounds) and a tare button, so that you can "zero" out the scale. And for ease of use, I also suggest a scale with a flat measuring surface as opposed to a bowl.
Clean, Organic Protein Powder
You'll notice that I've included a protein shake as part of your meal plans. Protein shakes are awesome because they're quick to prepare and can support your recovery to help you build lean muscle. I absolutely LOVE IdealRaw Organic Protein and I suggest you pick some up! It is a clean, delicious, organic, and plant-based protein that has all the goodness from real plant sources! I also suggest IdealRaw organic coconut oil for all the recipes that call for it. It delivers healthy fats, is certified organic, preservative-free, and is the perfect alternative other oils and even butter!
Frequently Asked Questions
Each exercise that should be avoided by those with ab separation is marked with an asterisk*. A modification or replacement exercise is provided for each of these, so if the certain exercise are too difficult, you can do the modification instead!
If you're tired of drinking water would like an alternative beverage, consider the following options:
Bai Bubbles or Antioxidant Infusion drinks
LaCroix water
Carbonated waters
Any drink with five or fewer calories per serving
Black coffee (can use almond milk as a creamer and/or stevia to sweeten)
Tea (can use almond milk as a creamer and/or stevia to sweeten)
Fruit-infused water
The short answer is no. Ready for the quick explanation?
Your post-workout meal is to meant to help replenish your muscle glycogen stores and to support growth and recovery during a time when your body needs quick nutrients.
This is why many of the post-workout meals provide fast-digesting simple carbs that your body can absorb quickly.
Saving your post-workout meal for later somewhat defeats its intended purpose. So while I don't recommend skipping it, don't save it for later!
No. I can't stress this enough, but you should do your very best not to skip any meals during this challenge.
Each meal has been specially designed to provide support in reaching your goals. Skipping a meal leaves may leave you deficient in key nutrients, which will negatively affect your energy levels and may have an adverse impact on your efforts to build muscle, lose fat, or maintain your body composition.
So savor each and every meal!
I suggest grabbing some greens! Your consumption of green veggies is not limited during my program, and they make a great snack.
Preparation options may include steaming them, roasting them, or eating them raw.
For those who are breastfeeding, we definitely recommend speaking to your doctor prior to starting this program or using our products. Once receiving clearance however, you should increase your food by 1.3.
So if a meal for that day calls for 20g oats, you would multiply the amount by 1.3 like so:
20g x 1.3 = 26g oats
Do the same for each item, to make sure that you're getting enough calories while producing milk.
Regardless of what time of day or night you get in your workout, I suggest consuming your post-workout meal immediately afterward.
Depending on your workout, here are possible workout/meal schedules:
VERY EARLY AM (workouts for people who don't want to eat pre-workout)
Workout
Post-Workout
Meal 1
Snack 1
Meal 2
Snack 2
Meal 3
AM workout:
Meal 1
Workout
Post-Workout
Snack 1
Meal 2
Snack 2
Meal 3
Mid-day workout:
Meal 1
Snack 1
Workout
Post-Workout
Meal 2
Snack 2
Meal 3
Afternoon Workout:
Meal 1
Snack 1
Meal 2
Workout
Post-Workout
Snack 2
Meal 3
Yes! EVERY recipe in Breakfast, Lunch, and Dinner is balanced in both calories and macronutrients so you can literally choose any three meals from all of those recipes, add on a Post-Workout meal and TWO snacks and you're set with easy, flexible, and delicious nutrition for your day!
In a perfect world, you would ideally want to prepare your meals before-hand to take them with you. But I understand that doing so isn't always possible, so I've prepared a rough outline that you should try to stick to when you do eat out.
Protein: Target lean meats like chicken or fish, grilled if possible, and eat them plain, without sauces or butter. Seasonings are usually calorie free and are ok.
Vegetables: Plain veggies, free of butter or sauce, are perfectly acceptable. Again, seasonings are ok.
Side Dishes: Side salads without dressing or a baked potato without sour cream and butter are your best options.
A solid example meal could include:
Grilled chicken, steamed or fresh veggies, and a side salad.
OR
Something else with similar macros.
Yes you can! Your treat meal should be just that -a treat! Just don't let it turn into a treat day, and still try to use discretion.
Remember, week 6 does not include a treat meal.
1 whole wheat tortilla or pita bread = 1-2 corn tortillas, depending on the type (totaling 80 calories)
Oats = gluten-free oats
Kodiak Power Cakes pancakes = gluten-free pancake mix (95 calories per 1/4 scoop)
1 slice whole wheat bread = 1 slice gluten-free bread
You certainly can! Some possible substitutions are as follows:
1/4 medium avocado = 3 tbsp. shredded cheddar cheese = 2 tsp. peanut butter
1/2 banana = 2/3 c berries = 1/2 medium apple = 1/2 medium peach
3/4 banana = 1 c berries = 1 medium apple = 1 medium peach
1/2 c low-fat cottage cheese = 1 egg and 2 egg whites
93% lean ground turkey = 93% lean ground beef
Zucchini noodles = spaghetti squash
Skinny Cow ice cream sandwich = 3 caramel rice cakes
Fish = chicken = turkey breast
Absolutely! Consider the following substitution suggestions:
2 eggs = 5 oz tofu = 1 scoop IdealRaw Protein
3 oz chicken/extra lean turkey and beef/lean pork sirloin = 4.5 oz tofu = 1 scoop IdealRaw Protein
1/2 c plain Greek yogurt = 2.5 oz tofu = 1/2 scoop IdealRaw Protein
2 oz turkey jerkey = 1 1/4 scoop IdealRaw Protein
150g low-fat cottage cheese = 5 oz tofu = 1 scoop IdealRaw Protein
1/2 turkey burger = 4 oz tofu = 3/4 scoop IdealRaw Protein
Technically yes, but I highly recommend sticking to the plan as it is designed, with your rest day scheduled for Sunday. This will help give you enough rest time between each muscle groups that are worked.

Yes and no ;) These are designed to help you push yourself, and to give you a way to go beyond the daily workouts. If you're feeling great by the end of your regular workout, do the challenge! It will help you burn extra calories, keep you sweating a bit longer and give you some extra endorphins (you never know what a day in the life of being a mama will bring--extra endorphins are ALWAYS welcome :). But if your regular workout has you beat and you are totally spent at the end of it, you can be done. Eat your post-workout meal, rest up, drink your water and try again the next day! They're always there to challenge you!