Do you have a passion for Health and Fitness?
Do you want to get paid to promote products, weight loss programs, and fitness plans you know and trust? Then we want you to join us!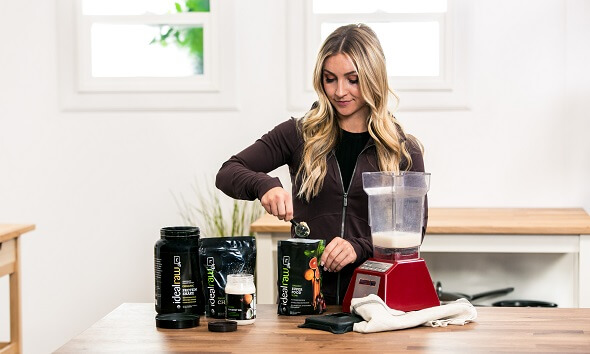 Introducing IdealRaw
When you advertise for IdealRaw you will be offering vegan, soy free, eco-friendly, dairy free, "nothing artificial" products. By only using real, quality ingredients, (that you can actually pronounce) IdealRaw Protein gets rid of all the extra sugars, chemicals and other bad stuff to reveal the best, cleanest protein shake for both you and the planet.
And because we know organic products can sometimes taste...less than ideal, we stand behind IdealRaw Protein with our Flavor Pact — love it, or your money back. You'll dig it, we promise.
Program Benefits
Earn Commission - Starting at 8%
Refer Friends - our two tier CA$5.00 affiliate referrals allow you to invite your website-owning and blogging friends to join our affiliate program and earn CA$5 for each friend who is approved.
Dedicated Affiliate Manager - our affiliate manager is proactive and seriously knows her stuff. Like, seriously.
Quality Ads - we have a large database of creatives that are available for all of your advertising needs.
Product Data Feed - you will get a full list of all products with pictures and titles.
Downloadable eBooks - access to IdealRaw eBooks ranging from meal plans to recipes to programs and more!
30 Day Cookie - your customers click will be tracked for 30 days after clicking on an affiliates link. That way you will still get credit for a sale, even if they don't buy product right away.
Average Sale - our average sale is CA$100 dollars, so you can receive some really generous payouts.
Return Rate - our return rate is less than 2%... so we must be doing something right? Right.
Money Back Guarantee - aren't satisfied? Let us know and get a 100% money back guarantee on products. Always.
Frequently Asked Questions About Affiliates
Nothing. You can be an affiliate at no cost to you.
No worries! We'll help you figure everything out and get you earning commissions in no time :)
Great question! What it means is that we'll pay you for advertising our products on your website, blog, social media, etc… Your commissions are earned from the sales you make on your own website!
You will need to add your bank/payment details to your account after you sign up. After that, you'll be paid once a month!
According to FTC guidelines, if anyone is getting compensated for promoting a product, they must include #AD or #Sponsored. Therefore, every affiliate post that goes up, must include #AD or #Sponsored.
Yes! You should have an affiliate disclaimer on your site.
We advise discussing any supplement with your doctor.
We don't have a coupon code we can give you, but you can take advantage of all of the sales that we frequently run. Make sure to sign up for the newsletters to be updated on special offers!
There are opportunities to get free product! You'll need to work with us directly on this, whether you're wanting to do a review or we can send it to you as a bonus for reaching a sales goal!
On the 20th of each month you will receive a payment from ShareASale. All payments are processed directly through them. Note: your commissions have to have reach $50.00 for a deposit to be made. If you don't receive a payment one month don't worry, the commissions will just roll over month to month until it reaches $50.00.
In most cases you'll want to be exclusive to one brand. However, there are often situations where you can post for multiple brands! If you're not sure definitely contact us and we'll let you know!
We expect our affiliates to be actively engaged in pushing our brands. You are one of our main tools to share our brand with the world, and we want you to succeed! We expect that you frequently update and post the deals sent to you in newsletters, and that we both hold up our ends to keep in contact. You are the most powerful assets we have!
We are looking for individuals and organizations that want to help people transform their lives! We really believe in our products and we know that they work. People that are accountable and willing to post the resources we provide you with.
Your performance is measured on your conversion rate. This means clicks vs. sales. The more sales you have vs. how many clicks you have the higher your conversion rate will be.
You'll post on any/all channels you own, and that are appropriate for the brand! Your social media, write a blog post/review, put up banners on your blog/website, etc...
Don't Wait - Start Today!
Become An IdealRaw Affiliate Now
Apply Now